Alex Txikon will try again to ascend Everest in winter, plus other peaks - from Desnivel.com (Transltn
Carneric Alps (Italy) accident on Mount Grauzaria - from Montagna.tv - English translation given
How many 8000er winter expeditions are left? - by Stefan Nestler on his blog Adventure Mountain
https://www.desnivel.com/expediciones/alex-txikon-volvera-a-intentar-ascender-el-everest-en-invierno/

-- Alex Txikon will try again to ascend Everest in winter
Alex Txikon has announced that he will try Everest this winter with Oscar Cardo, Jonatan García, Chhiji Nurbu Sherpa, Pechhumbe Sherpa and Tenjen Sherpa. Before leaving for Everest he will participate in an expedition to explore new routes in the Antarctic Peninsula and, in January 2020, he will fly to Nepal, where he also plans to ascend the Ama Dablam.
https://www.montagna.tv/151936/alpi-carniche-incidente-sul-monte-grauzaria/

-- Carneric Alps (Italy), accident on Mount Grauzaria
https://abenteuer-berg.de/en/how-many-8000er-winter-expeditions-are-left/

-- Stefan Nestler -- How many 8000 er winter expeditions are left ?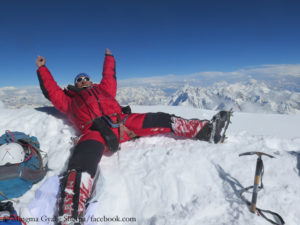 ===================================================================
https://www.facebook.com/cyril.kaicener/photos_all
Please log in
https://www.facebook.com/360Expeditions/
4 reasons & 4 pictures why the K2, Broad Peak, GI & GII Base Camps trip is an expedition that should be on your bucket list by 360 guide @adetnw
1. The simply mind blowing 360 degree views at Concordia Camp of the 7&8000m mountains. You cannot help but be totally and utterly absorbed into the wonder of it all.
2. Trekking on the Balturo Glacier and trekking pass the Trango Towers has got to be one of the highlights. An awe-inspiring wonder.
3. The real adventure of traveling and trekking in Pakistan which is still unspoilt and untouched by mass tourism.
4. The friendliness and hospitality of the people in Gilgit Balistan. Your heart will be touched and you'll come away feeling humbled and privileged to have spent time here.
====================================================================
Please visit my website
http://www.hiking4health.com