Difficult helicopter rescue on the Matterhorn - from Newsbeezer.com and Montagna.tv facebook
Eight Thousander discussion : How far up is the top. - from Stefan Nestler's adventure blog
Harvard, Colunbia, Peak 13,374 ft - Colorado -- Trip report with pictures from Bob Burd
https://newsbeezer.com/italyeng/rush-on-the-matterhorn-difficult-rescue-last-hour/

-- Rush on the Matterhorn, difficult rescue - last hour
https://www.montagna.tv/145774/precipita-dal-cervino-muore-alpinista/
(ANSA) – AOSTA, AUGUST 30 – A 56-year-old Polish mountaineer is
crashed on the Italian side of the Matterhorn for at least 200
Meter. Bad view prevents the helicopter at the moment
to reach him and to check his condition.
The climber fell from the wall called "Chimney", passage
obliged to reach the buffalo Capanna Carrel, at 3.830
Meter height. Here was his climbing companion,
unharmed.
Operate the Mountain Rescue of the Financial Guard of
Cervinia and the mountain rescue of Valle d'Aosta. Could also
intervene from the Swiss side of the Air Zermatt helicopter
to evacuate the climber unhurt from the bivouac, exploit
better visibility at higher altitudes
Matterhorn fatality - RIP
Update at 18.00 - The mountaineer who fell about 150 meters on the Cheminée, a wall along the normal Italian Matterhorn, died. The body was recovered and taken to Cervinia, where the climbing companion remained unharmed.
https://abenteuer-berg.de/en/eight-thousander-discussion-how-far-up-is-the-top/#more-46288 -- Stefan Nestler -- Eight Thousander Discussion : How far up is the top.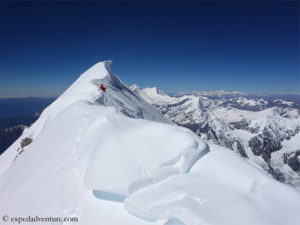 https://www.snwburd.com/bob/trip_reports/harvard_n01_1.html

-- Harvard, Columbia, Peak 13,374 ft - Colorado


===============================================================
https://www.facebook.com/cyril.kaicener

--

Please log i
n
https://www.facebook.com/cyril.kaicener/photos_all
Please log in
Great 5 day trip with Ellie and
Peter O'Mara-Kane
. Ellie's first trip to the Alps and we managed a good variety of routes through the week. Voie Caline on the Mottets, Aiguille Marbree, Traverse of the Petite Charmoz (just me and Pete that day), and then a trip to Italy for the Punta Giordani and Pyramid Vincent. Good weather, good company and good craic !
British Mountain
https://www.facebook.com/stuart.a.macdonald.58
https://www.facebook.com/eric.newcomb.9235
=================================================================
Please visit my website
http://www.hiking4health.com.