Four climbers found dead at Camp 4 on Mt Everest - report by the Himalayan Times
Simone Moro y Tamara Lunger en pleno intendode la 1a traversia du cumbres del Kangchenjunga
Chhuldim Sherpa scales Mount Everest 19 times - report by Nepal Mountain News
Meetup Shanghai - Sichuan Tibetan Area Snow Mountains - Hiking Lovers/ Adventurers - May 27 to June 4
https://thehimalayantimes.com/nepal/breaking-four-climbers-found-dead-camp-iv-mt-everest/

-- Four climbers found dead at camp 4 on Mt Everest
http://www.alanarnette.com/blog/2017/05/23/everest-2017-4-found-dead-tent-south-col/
http://www.barrabes.com/actualidad/noticias/2-10033/simone-moro-tamara-lunger-pleno.html

-- Simono Moro y Tamara Lunger en pleno intendo de 1 traversia de cumbres del Kangchenjunga
https://www.thenorthface.co.uk/exploration/our-journal/kangchenjunga-expedition.html?utm_source=tamarafb&utm_medium=facebook&utm_campaign=kangchenjunga_skyline

-- In English
UPDATE: Simone and Tamara have left basecamp and are heading towards camp 3. Follow them live:
http://bit.ly/2q8lTPo
See More
http://www.nepalmountainnews.com/cms/archives/107377
-- Chhildim Sherpa scales Mt Everest 19 times
https://www.meetup.com/HikingLovers/events/239099191/

-- Meetup Sichuan Tibetan area
https://www.facebook.com/ptmoran1?pnref=story
https://www.facebook.com/nmn2011/
https://www.facebook.com/GrandCanyonNationalPark/
https://www.facebook.com/InyoCountySheriffsOffice/
Search and Rescue UPDATE
At noon today Dongying "Cindy" Qiu was located deceased at the base of a frozen waterfall near Outpost Camp. It is believed that she fell approximately 60 feet through a snow chute at the top of the waterfall (located on the southwest side of Outpost Camp, about a quarter mile off trail).
"This is an incredibly tragic situation and based on the extreme snow conditions in the backcountry, this could have happened to anyone," stated Inyo County Sheriff'
...
See More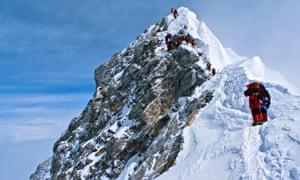 https://www.theguardian.com/world/2017/may/23/mount-everests-hillary-step-is-still-there-say-nepalese-climbers

-- Hillary Step is still there
Please visit my website
http://www.hiking4health.com