Everest 2019 : New Route Attempt on Everest - from Alan Arnette on his detailed blog
Nanga Parbat : Search for Nardi and Ballard Resumed - from Stefan Nestler on his blog
Updated : Txikon Reaches Camp 2 on Nanga P - Searches on foot for Nardi + Ballard - Explorersweb
The first Dog Ascent of a 7000 Meter Himalayan Peak - from MountainPlanet.com
http://www.alanarnette.com/blog/2019/03/04/everest-2019-new-route-attempt-on-everest/

-- Alan Arnette -- Everest 2019 : New Route attempt on Everest
https://abenteuer-berg.de/en/nanga-parbat-search-for-nardi-and-ballard-resumed/?fbclid

-- Stefan Nestler -- Nanga Parbat : Search for Nardi and Ballard resumed
https://explorersweb.com/2019/03/04/txikons-drones-searching-nanga-parbat-for-nardi-and-ballard/

-- Updated : Txikon Searches on Foot for Nardi and Ballard - Reaches Camp 2 first.
https://mountainplanet.com/blog/the-first-dog-ascent-of-a-7000-meter-himalayan-peak-6707

-- The first Dog Ascent of a 7,000 meter Himalayan Peak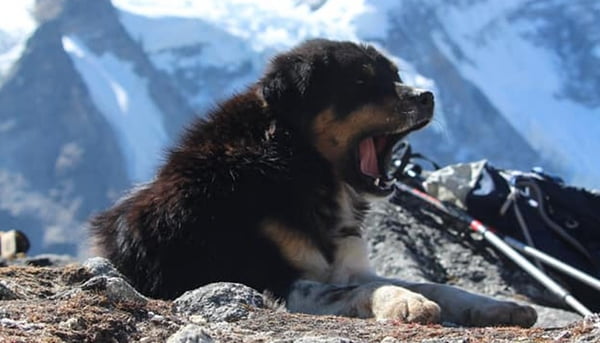 =====================================================================
https://www.facebook.com/cyril.kaicener

--

Please log i
n
https://www.facebook.com/cyril.kaicener/photos_all
Please log in
https://www.facebook.com/RolfeOostra360/
https://www.facebook.com/pakmountainnews/
====================================================================================
#

NangaParbat

update -3 (04.03.2019)
Basque climber Alex Texikon and his team are at camp-1 of Nanga Parbat since more than two hours and setting up the drones a
nd other necessary equipment. They carried out first reconnaissance mission but without any trace of missing climbers. The visibility at the moment is good. According to Texikon, "We arrived at the field we are installing on the plateux between camp 1 and 2 at an altitude of 4850 meters. The weather is splendid. It is also hot and the danger of avalanches increases. With the helicopter that brought us here we made a very close survey on the mountain, along the Kinshofer road, then on the Mummery spur and on the glacier area between camp 3 and the point where we landed. We have reached an approximate altitude of 7100 meters. Unfortunately, there are no visible traces of our friends ".
Alex Txikon now, together with another mountaineer, is heading towards camp 2 while Ignacio de Zuloaga, a mountaineer and engineer, is preparing drones that will begin to carefully and in detail explore the routes and possible trajectories of fall. Each possibility will be explored.
PMN will keep you updated about the rescue/search activities
=======================================================================
*Nanga Parbat Winter Expedition Rescue:* Two Écureuil B3s of Pakistan Army Aviation took off from Skardu AAB at 1104hrs PST in difficult weather conditions around Skardu. Fortunately the weather was much better outside the Skardu Valley. The formation passed by Jaglot before heading to Nanga Parbat. Weather had turned for good by that time in that area.
Arriving at Nanga Parbat, the two Écureuils climbed to Camp-I and spent 10 minutes up there to reconnoiter a landing spot a
t Camp-I. The formation then landed at Base Camp dropping off the Spanish rescuers. The two helis then took Alex Txikon and Rehmat Ullah Baig from the Base Camp and climbed back up to Camp-I. Since Rehmat was with Daniele and Tom during the initial phase of the expedition, he was able to point out the exact route on the Mummery Spur to Alex and the pilots. The formation then started an aerial reconnaissance with Alex on board and searched the area for around 50 minutes. They went up to 7100m before climbing down to Camp-I. Unfortunately no sign of climbers or a camp site was found during the aerial reconnaissance. The formation then dropped off Alex Txikon on Camp-I and returned to Base Camp before heading back to the base.
Ali Sadpara has climbed up to Camp-I to join up with Alex Txikon. Alex Txikon has a drone with him which he intends to reconnoiter the area to locate Daniele and Tom.
Will keep you posted,
Shamyl.
*SITREP ALEX TXIKON:*
[04/03, 2:44 pm]: 1st Alex Txikon report from his sat phone: We arrived at the camp we are fixing on the plateaux between camp 1 and 2 at 4850m. Wonderful weather. Very warm and avalanches' danger increases. With helicopter we did a recon very close to the mountain, along Kinshofer route and then on Mummery Spur and the area of the glacier between camp 3 and our landing point. We reached an approximative altitude of 7100m. Unfortunately no traces of our friends. Ignacio, who is climber and engineer is preparing the drones to search carefully the traces and the trajectory of fall. Each possibility will be explored.
Alex is going towards camp 2 with another climber.
https://www.facebook.com/a.piunova
https://www.facebook.com/a.piunova/videos/pcb.2293249777612573/2293253934278824/?type=3&theater
Video
====================================================================
Please visit my website
http://www.hiking4health.com